Phase 3: Pave!
Phase 3 is probably everyone's favorite part of the driveway installation process. Why, might you ask? Well, because it is almost complete! Phase 3 is the final step of your driveway installation. Your base material has now had enough time to settle and your mason work has been completed with enough time to dry. Although you do need to stay off your driveway with your vehicles for 7-10 days after it has been paved, your driveway makeover is just about complete!
Here are some of the most frequently asked questions about the final phase of driveway installation:
What is asphalt? Asphalt is a mixture of Stone, Sand, and binding oil.
What makes asphalt so strong? The stone content.
Why do some areas seem to be stonier than others? Some areas of asphalt will appear to be stonier due to the asphalt mixture itself.
Can stones come loose from a new driveway? Yes, surface stones can come off. We recommend sealcoating your driveway one year after it has been installed in order to prevent stones from loosening in the future.
Can asphalt settle? Yes, depending on existing ground conditions and excessive weight placed on top of it. Additionally, well graded base material that has been allowed the appropriate amount of time to settle will help to prevent asphalt from settling later and will help your driveway last longer!
Can water accumulate? Water areas can appear on driveways even if they have a good pitch. Ask our estimators about drainage options during your free estimate if you have any water accumulation concerns!
Will water hurt my driveway? No! The more water, the better! When your driveway is installed, it is a good idea to hose it down frequently as the water helps to cure the asphalt and settle the product.
Can vegetation grow through an asphalt surface? Yes! At the first sign of any vegetation, use a non-petroleum weed killer on the area. The same way the vegetation grew through the base material, the vegetation can grow through asphalt, so it is important to be on the look-out and to prevent it from spreading.
How long do I have to stay off my new driveway with my car after is has been paved? We suggest at least 7 to 10 days. If there have been a lot of extremely hot days, be more cautious.
When can I walk on my driveway? Please wait at least 24 hours after it has been paved.
Can I get tire marks or indentations? Yes! Sharp objects and vehicles should be off a new driveway until is been cured. Also, avoid turning your wheels on your driveway as much as possible.
Can I use salt on my driveway? Yes, as long as the driveway has been sealcoated, although, very little is recommended.
What type of maintenance is required for asphalt? We recommend sealcoating your driveway.
When should I sealcoat my driveway? 1 year after completion.
Does Affatato Paving sealcoat? Yes! If we installed your driveway, we can provide you with a price immediately over the phone. If we did not install your driveway, we would be happy to send an estimator to your home to measure and provide you with a free estimate.
See more information about Seal Coating Here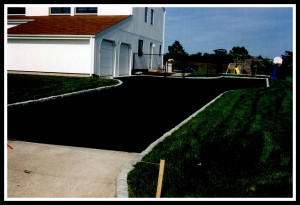 var _gaq = _gaq || []; _gaq.push(['_setAccount', 'UA-29821867-1']); _gaq.push(['_trackPageview']);
(function() { var ga = document.createElement('script'); ga.type = 'text/javascript'; ga.async = true; ga.src = ('https:' == document.location.protocol ? 'https://ssl' : 'http://www') + '.google-analytics.com/ga.js'; var s = document.getElementsByTagName('script')[0]; s.parentNode.insertBefore(ga, s); })();